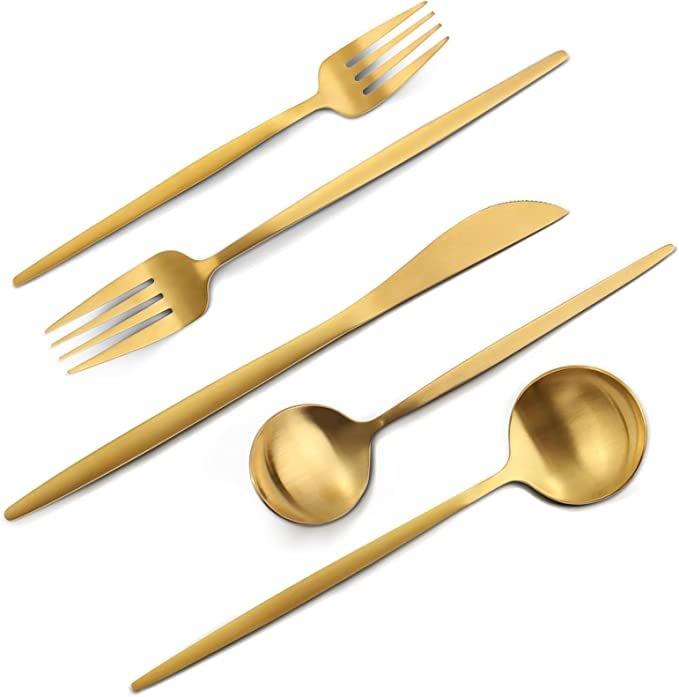 Details:
This set of silverware has

good durability

,and is made of

high-quality stainless steel

.Safe materials are nontoxic and tasteless. The frosted surface looks novel and upscale.

Timeless and classic design

is one of the characteristics of this set of tableware. This Flatware has been redesigned by designers, and its thickness and handle have changed, making it easier to hold it and enjoy food with it.

Cleaning becomes simple

, so you can put it in the dishwasher with confidence. It won't drop paint or crack.
Before you use it for the first time, rinse it with warm water and mild dishwashing liquid. As soon as you can, wash off (using a soft sponge and do not use hot water) residues and food stains. water hardness, chemicals used, etc)
Although some customers have successfully washed this flatware in their dishwashers, we can't guarantee that the dishwasher won't damage the exterior finishes. There are many factors that can affect this, such as water hardness and the type of chemicals used. What type of dishwasher do you have, and what dishwasher detergent do you use? It is recommended to only handwash the flatware in order to preserve the exterior as much as possible.
However, if you decide to use the dishwasher, you should try dishwashing programs with a low temperature of 104°F / 40°C or less, as higher temperatures may affect the exterior quality of the flatware. Is your dishwasher's eco-friendly program operates on a low temperature of 104°F / 40°C or less? You may also consider testing 1 or 2 flatware pieces in the dishwasher over a prolonged duration first (say 1 to 2 months), before putting the remaining pieces in the dishwasher.
Use only mild dishwashing liquid and avoid citrus-scented, chlorine-based and anti-limescale detergents when washing. Do not use sponges or scrubs that are abrasive.
To prevent water marks, discoloration and film buildup, dry with a soft towel after each wash.
When storing your flatware pieces, keep them in a dry and well-ventilated place. Also, keep spoons and forks separately from the knives to avoid scratches on the surface.