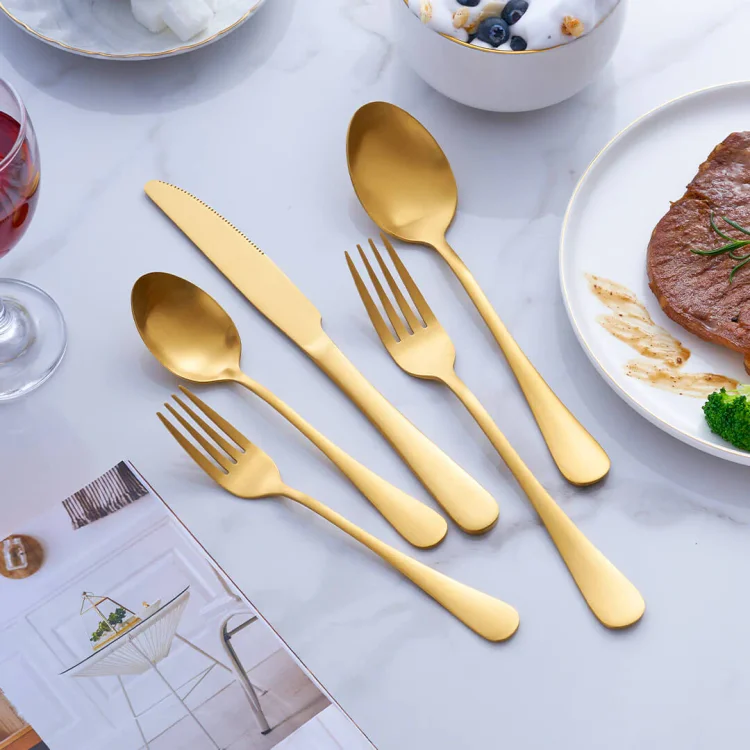 l

Suitable For Any Food
The knife edge is sharp and easy to use, Knife tooth is wear-resistant and durable use.

Graceful Line Design
Novel design & Modern & well-balanced proportions to seek good touch feeling.

Smooth Edges
Detailed tackle not rough and sharp. So dining uses safer.



Modern Handle Design
The simple handle design is comfortable to use and stylish.

Dessert Fork And Dessert Spoon
The matching dessert fork and dessert spoon, let you use more diversified.

Sturdy, Durable, and Nice Weight
Made from the highest quality of 18-10 stainless steel, also called 304 grade, the flatware set is highly durable and extremely rust resistant.
Details
Dine in style with our classy LUXE Flatware, made from 18/10 stainless steel. The titanium-plated matte finish provides greater durability to the flatware, and the sleek design of the handles brings a modern feel to your tabletop.
Material: 18/10 stainless steel with titanium-plated matte finish
Color: Black/ Gold/ Rose Gold/ Silver/ Rainbow
The 20 pieces set consists of 4 x dinner knives, 4 x dinner spoons, 4 x dinner forks, 4 dessert spoons, and 4 x salad forks.
Buy more sets and enjoy greater savings!
Dinner Spoon – 8.03 inches/ 2.4 oz
Dinner Fork – 8.07 inches/ 1.9 oz
Dinner Knife – 9.0 inches/ 2.7 oz
Tea Spoon – 6.81 inches/ 1.7 oz
Salad Fork – 6.85 inches/ 1.5 oz
Care Guide:
Before you use it for the first time, rinse it with warm water and mild dishwashing liquid. As soon as you can, wash off (using a soft sponge and do not use hot water) residues and food stains. water hardness, chemicals used, etc)

Although some customers have successfully washed this flatware in their dishwashers, we can't guarantee that the dishwasher won't damage the exterior finishes. There are many factors that can affect this, such as water hardness and the type of chemicals used. What type of dishwasher do you have, and what dishwasher detergent do you use? It is recommended to only handwash the flatware in order to preserve the exterior as much as possible.
However, if you decide to use the dishwasher, you should try dishwashing programs with a low temperature of 104°F / 40°C or less, as higher temperatures may affect the exterior quality of the flatware. Is your dishwasher's eco-friendly program operates on a low temperature of 104°F / 40°C or less? You may also consider testing 1 or 2 flatware pieces in the dishwasher over a prolonged duration first (say 1 to 2 months), before putting the remaining pieces in the dishwasher.
Use only mild dishwashing liquid and avoid citrus-scented, chlorine-based and anti-limescale detergents when washing. Do not use sponges or scrubs that are abrasive.
To prevent water marks, discoloration and film buildup, dry with a soft towel after each wash.
When storing your flatware pieces, keep them in a dry and well-ventilated place. Also, keep spoons and forks separately from the knives to avoid scratches on the surface.